Jiffy Lube & Suds Car Wash Pair Again For Powerful Drive Hope Program
Jiffy Lube & Suds Car Wash successfully worked within their communities to raise over $100,000 again with the Drive Hope Program, for the Canadian Cancer Society Transportation Service
TORONTO, ON, November 6th, 2014—Jiffy Lube and Suds Car Wash successfully completed their 2nd annual Drive Hope program that ran throughout the summer in support of the Canadian Cancer Society Wheels of Hope Transportation Service – a program that provides cancer patients with transportation to their life-saving treatments. This year's program raised $106,000 for a total donation to-date of $229,800 through the sale of Drive for Hope coupon booklets.
This much-needed service is the largest of its kind in North America. In Ontario last year, over 2,800 volunteers helped drive 13 million kilometres between a patient's home and cancer treatment centres. Typically, one patient uses the service 10-17 times during the course of their treatment.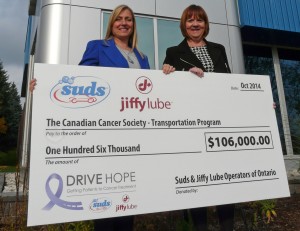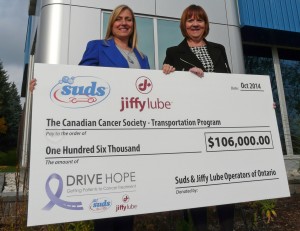 "We have a very loyal customer base and knowing we could support a transportation service that is readily available as someone's family member is fighting for their life against cancer, was important to us," says Dianne Hinds, Director of Marketing for Jiffy Lube Ontario and Suds Car Wash. "Together with our customers, we are giving a bit of comfort to our local cancer patients with each and every drive to an appointment, in hopes of beating their cancer."
"Unfortunately, the demand is growing for the need to provide transportation services for patients that have no other way of getting to a cancer treatment appointment," says Martin Kabat, CEO, Canadian Cancer Society, Ontario Division. "We are so thankful to the Jiffy Lube and the Suds Car Wash throughout Ontario that worked hard to raise these much needed funds."
Offered free of charge to cancer fighters – many without access to a vehicle or immune systems not strong enough to take public transit – it is one of the Society's most critical patient programs. Without this service, many cancer patients would not make it to their cancer treatments. Today, there are an estimated 350,000 people living with cancer across the country and this year, almost 75,000 Canadians will lose their fight.
For more information on how you can participate, visit your local Jiffy Lube and Suds Car Wash, or www.cancer.ca/wheelsofhope.