Home
Become a Jiffy Lube® Advantage Program Member For Special Rewards!
When you become a Jiffy Lube® Advantage Member, not only are you rewarded with exclusive promotions and discounts but you are also automatically entered for a chance to win prizes valued at $1,000 each and every month. Find your local Jiffy Lube to learn more!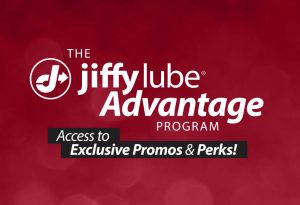 We are honoured to be the trusted choice for over 24 million customers across North America each year.
Here are just a few reasons why:
State-of-the-Art Technology
We've been embracing technology for over 25 years to help make it easier to keep cars healthy. With our connected and integrated technology system, we know what your car needs and when it needs it.
Leading The Pack For Over 35 Years
We know car maintenance can be stressful. To make it easy, Jiffy Lube™ was the first to introduce the window cling reminder sticker to help drivers keep track of their oil changes.
Doing it Right Means Training Right
Extensive training for all our technicians across Ontario is standard for every one of our talented team members. Our sophisticated training programs have been developed, tested and maintained for over 25 years. This help you drive in and drive on with confidence.
Worry-Free Warranty Protection
We really know cars, and especially your car. All of our services keep your manufactures warranty protected and intact.
We're Helping Families Run Great Businesses
In 2013, Jiffy Lube™ ranked #3 overall in Entrepreneur Magazine's Franchise 500 and number #1 in the quick lube industry!
Recycling Oil to Take Less From Mother Nature
Being a big company means big environmental responsibilies. We collect more oil than any other company in North America, and we re-refine this oil to be used in other purposes such as road paving, electricity generation & concrete manufacturing.
Growing rapidly across Ontario, we're consistently ranked as one the best franchise opportunities for entrepreneurs.