Drive Hope with Jiffy Lube & Suds Car Wash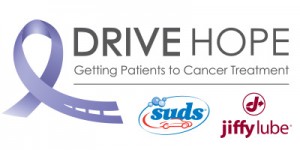 TORONTO, ON, July 3, 2014—Jiffy Lube and Suds Car Wash kick off their annual Drive Hope program that runs all summer in support of the Canadian Cancer Society Wheels of Hope Transportation Service — a program that provides transportation for cancer patients. This much needed service is the largest of its kind in North America. In Ontario last year, over 2,500 volunteers helped drive 13 million kilometres between patient's home and cancer treatment centres. With a bigger goal in mind, Jiffy Lube and Suds Car Wash would like to beat last year's fundraising total of $123,800.00 and continue to raise awareness of this critical service across the province.  
As part of the Drive Hope Program, both Jiffy Lube and Suds Car Wash will be selling their Drive Hope booklet that contains information on the program and a variety of coupons for basic car maintenance needs. The Drive Hope Program book retails for $3.00 and proceeds go to support the Canadian Cancer Society Transportation Service. This much needed service helps patients and their families get to essential treatments needed to fight cancer.
"Cancer doesn't discriminate. Every three minutes, another Canadian will hear the words, 'you have cancer.' It is the leading cause of death in this country. This year almost 75,500 Canadians will lose their fight—they are your employees, customers, business partners, family and friends. Participating in the Drive Hope program literally drives hope to those affected by this disease and helps them get to and from their treatments, one of the most difficult tasks they may face during their fight," said Martin Kabat, CEO of the Canadian Cancer Society.
Today, there are an estimated 350,000 people living with cancer. Typically, a registered patient uses the service 10 to 17 times on one way trips during the course of their treatment. If this service was not in place, many of these 350,000 individuals would not be able to get to and from their lifesaving treatments.
"Last year alone, 13,000 cancer fighting patients in Ontario relied on this service to provide them with transportation to and from their treatments," says Rick Morton, Director of Marketing, JL Management Group. "Jiffy Lube, Suds Car Wash and our amazing customers will continue to drive hope for our local cancer patients through every kilometre of their fight."
For more information on how you can participate, visit your local Jiffy Lube and Suds Car Wash, or www.cancer.ca/wheelsofhope.
About Jiffy Lube
As the largest quick oil change company in the country, Jiffy Lube has over 130 locations in Canada and over 40 in Ontario offering maintenance services outlined in your owners' manuals in minutes, with no appointment. For more than thirty years, the brand has helped redefine the vehicle preventive maintenance experience for drivers by upholding the values the company was founded upon: convenience, speed and quality service.With the development of Suds Car Wash in 2002, both brands are actively expanding in Ontario.